hmmmmmmmmm, seems like I forgot to post 1/4 mile times
Let's see I brought her out to the evening drag races @ Portland International Raceway... Surreptitious's first runs ever,
my first runs in over 25 years
!
We did all of 3 passes....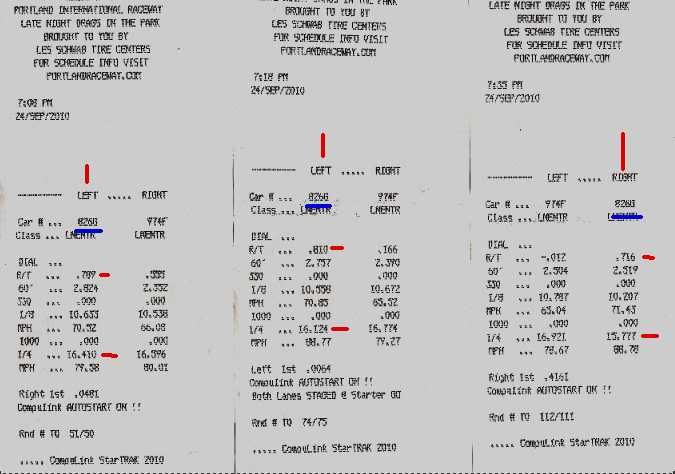 see, the #'s match
826G
If you look @ those slips you'll note I'm VERY slow off the line, but an 89mph trap speed while running a 3.9 final drive is pretty good. With a good driver I believe she can make passes close to 15 flat
Her tune has come a LOOOONG way, and although I have no dyno sheet to show, I can assure you she is now above the 145 whp she planted 11 months back. How do I know this without a dyno?? Simple really... only 2 settings have changed; I've added 5 degrees more timing from 6k-9k, and the redline is now 7850 instead of 7500.
But there is far more to a tune then just running on a dyno, and that is what I've been doing since February. What I'm referring to is intown, or driving tuning. In my town of Portland Oregon, there are some "village" type sections of the town, one of these is called Sellwood. Sellwood is mostly older residences laid out in a grid, but there are no speeds in excess of 30mph (48kph), and most streets are 25(40) or less. Surreptitious can tool around Sellwood in 2nd gear at a tick above 1700 rpm and be happy
And just as easily I can accelerate from a dead stop in 2nd gear and, without upshifting, reach 68 mph(109kph)
So... with the tune coming along very nicely, I have time to think of working on the interior. I had thought I had gotten an older MOMO wheel, just to find out I lost it... well, good things come to those that wait
above is a 37cm nearly flat Nardi :9~
and some more interior news....
A custom recovered dash pad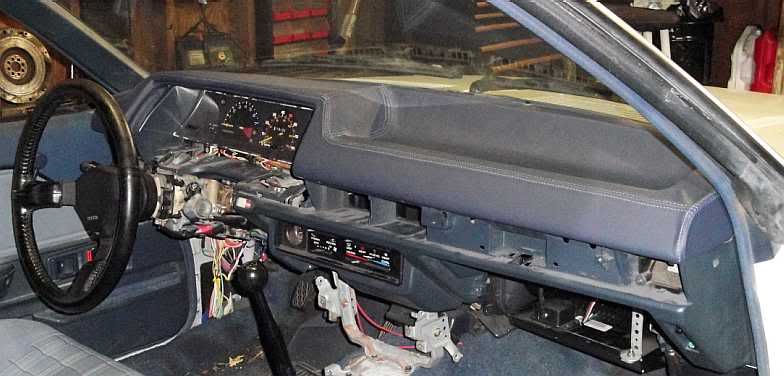 disregard the 3 spoke its just there till I get the nardi in my hands. Btw, that 9k tach is sweet in there
Along with the wheel, and the recovered dashpad, the recaros I got should fit in nicely
and while I've been waiting to build the bases, I've modified the Recaros, by adding lumbar support!!
AND........ the interior plastic bits....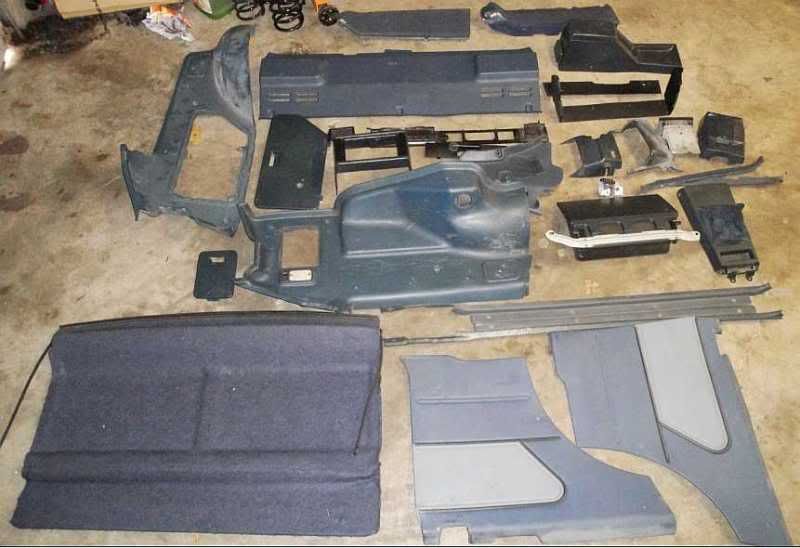 are being restored as I write this, and I should be getting them back in the next week or so
obviously more to come.....