Thanks guys, for the welcome to what I think is a forum with a heap of potential to grow! As promised, here is a brief profile of my 3rd KP6* Starlet I have owned, a genuine JDM spec KP61 XL Lisse (yeah yeah... I know they were aimed at women
).
I initially purchased the car for $400 NZD, which for a road legal KP61 Starlet 2dr, was very very cheap, as the popularity of drifting has pushed up prices of small RWD vehicles considerably.
I am the 6th owner, it was brought into the country in 1986, and it has travelled 167,000 kilometres as of the present. It runs a factory 4K-U (Jap emissions spec... all the emissions gear is long gone however) K40 4 speed 'box, and a 3.4:1 ratio X code 5.6" diff, which is shared by all Lisse spec models.
Here she is as I purchased it in October 2005, after a thorough clean: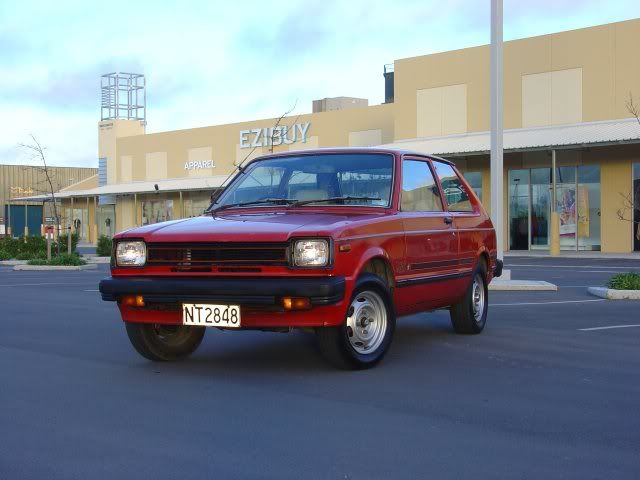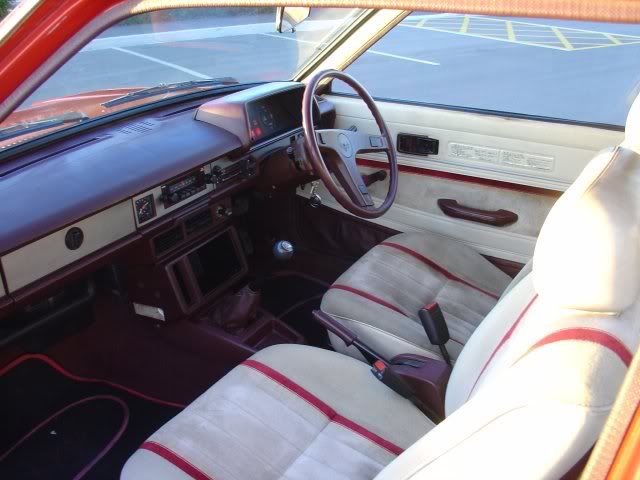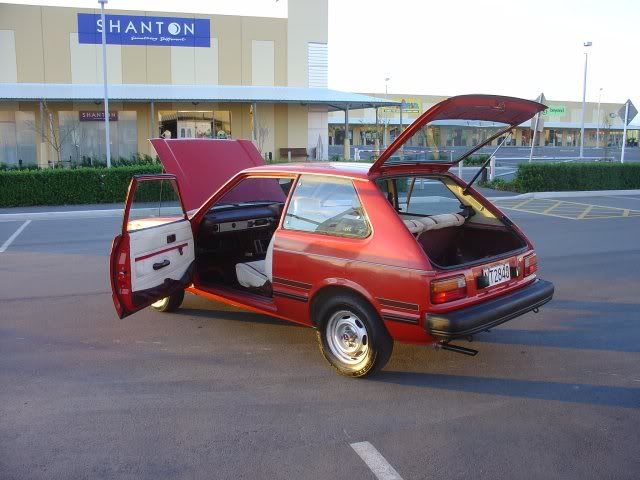 The paint was a bit tatty, it had several touchups on it, and a few very amateur rust repairs in both doors, however it had an intact interior, and the main structure of the car itself was in very good condition barring a myriad of shopping trolley type dents.
The first step I took was to replace the fender mirrors which had been removed by a previous owner, so I tracked down a set from an early 80's Toyota Corona, and bolted them on. They're a much smoother, rounder item than the original KP items, and they sit a little lower. I do have a set of KP mirrors to bolt on should I feel the need however.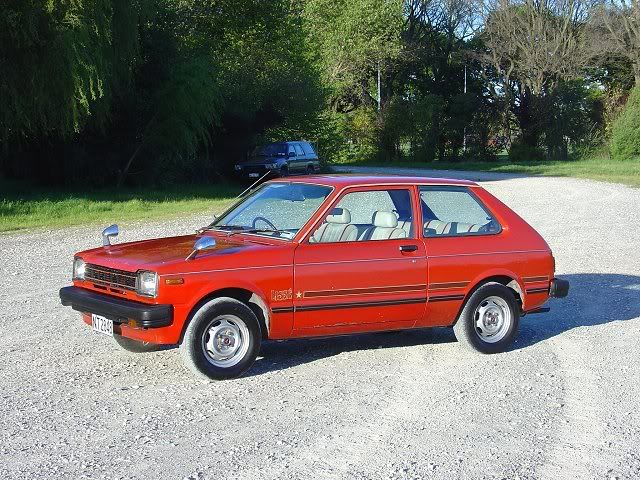 In between times, I began accumulating parts - the first being a set of SSR Mark 1 14x6" alloy wheels.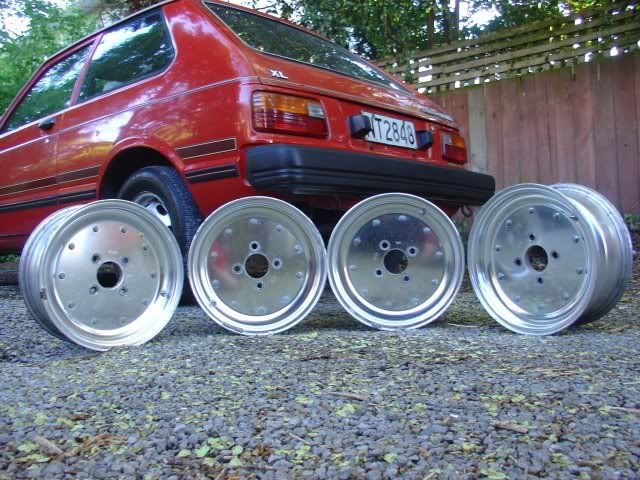 I also acquired a free 1983 KP61 Starlet Sprint - the Sprint was a new Zealand only model, it had a 4K with K50, 3.58:1 U code diff, very comfy sports seats and model specific alloy wheels (not the ones shown). This car pictured below was only acquired for a few bits... the aftermarket alloys on it I had on my car briefly before I sold them at a handsome profit, but the car also came with a full 2" exhaust system and a set of 4-1 headers.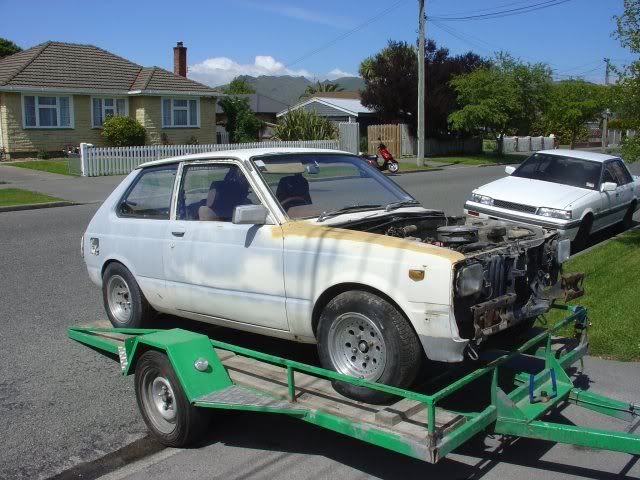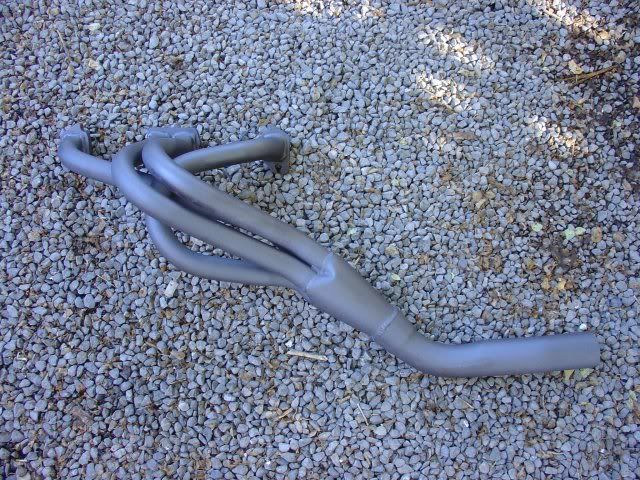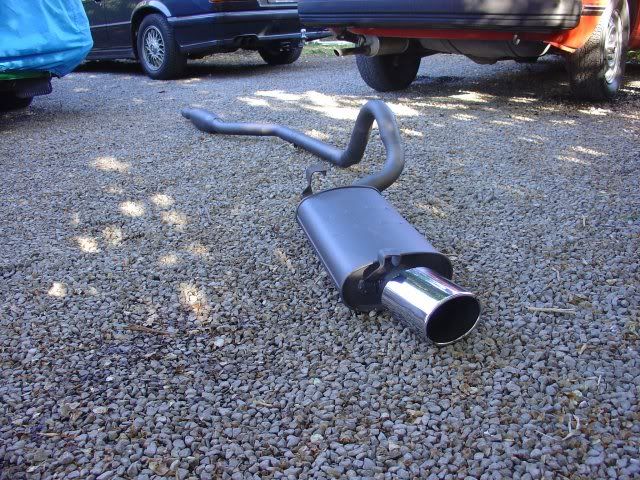 The wheels, and them on my car for a time: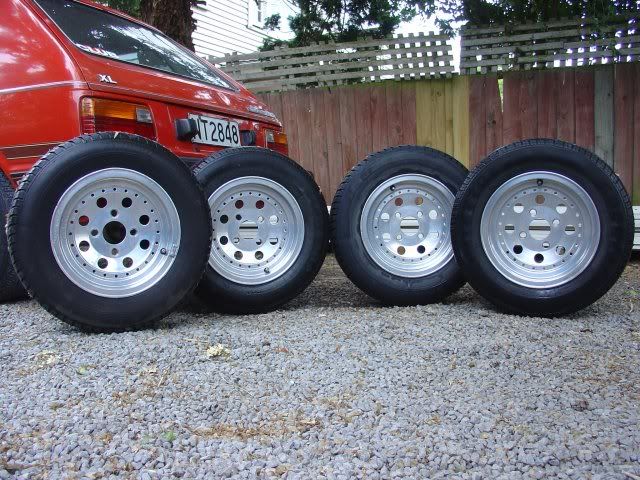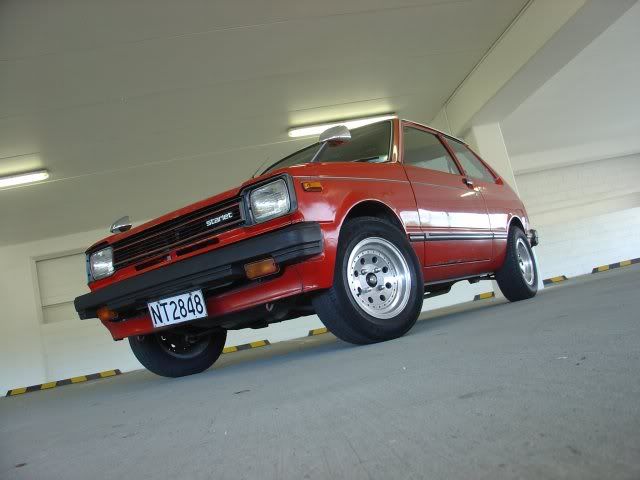 The standard issue shocks and springs had also seen far better days, so they met the bin and were replaced by a set of uprated springs, and a set of Monroe shocks (which I won't be buying again, but that's another story!)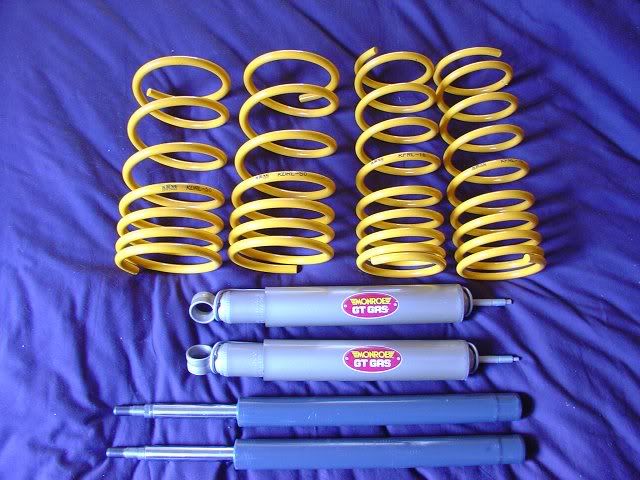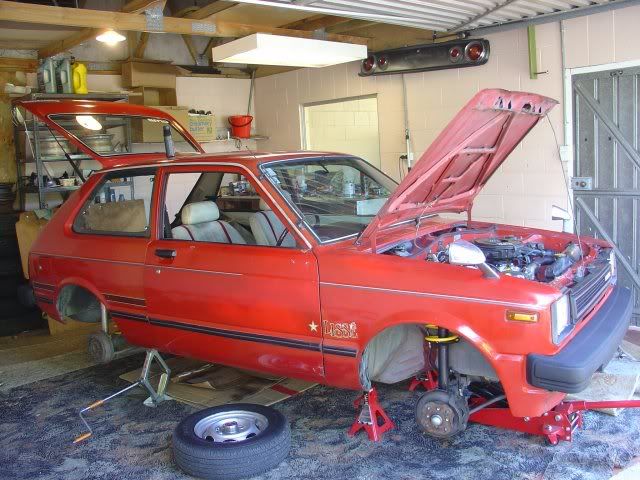 I finally managed to get my SSR's tidied up, and got a set of 185/60 R14 Goodyears on them... then bolted them on the car after selling the others: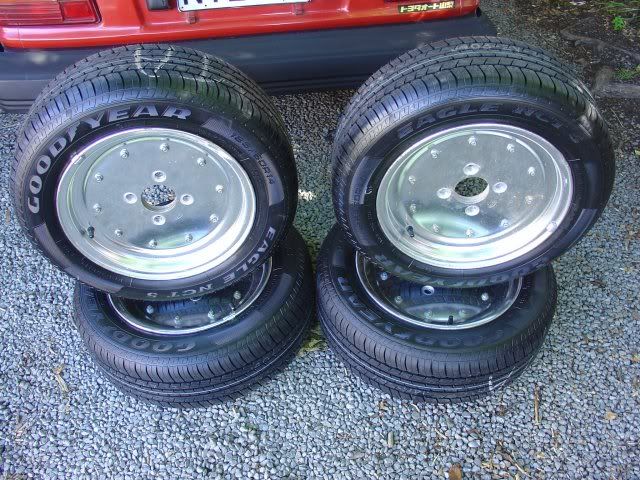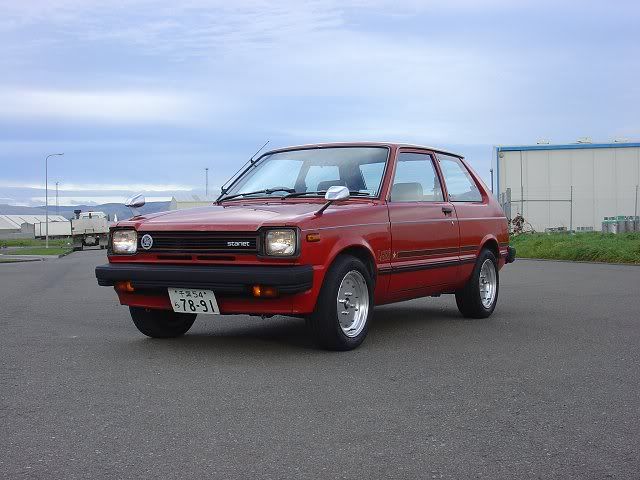 The next step was planning an engine build/conversion. Being something of a fan of the K series engine, I figured the best step was for me to go with the biggest I could easily obtain and install, so this meant 5K. I tracked down (with the help of a friend) a derelict 1987 Toyota Liteace van which had been off the road for some time due to rust problems, and ended up driving it home (kids... I don't endorse driving vehicles with excessive play in the steering box, rust holes in the floor, and no plates) after offering the owner $80. Turns out the motor is a gem, it showed fantastic compression across all 4 cylinders, after removing the head, it was proved that the bores were in good condition, and the internals are all very clean with minimal baked on crap - signs of regular maintenance. Here's the van, in case someone is interested: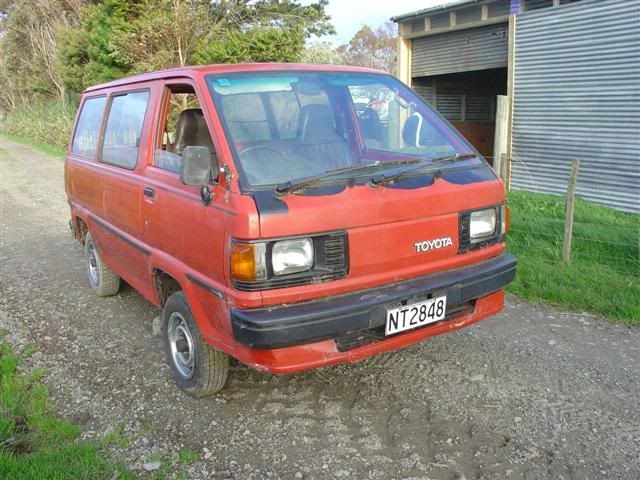 Plans for the motor include a ported and polished head, 1mm oversize valves, twin DCOE Weber or DHLA Dellorto 40mm sidedrafts, a cam grind that will ideally produce a fat midrange whack of power, custom 4-2-1 headers, and upped compression.
Next on the accumulation trail, I spied an old R30 Nissan Skyline sedan rotting on a front lawn of a house.... with a particularly interesting set of wheels on it. I aproached the owners, and yes, they wanted to get rid of the car, and yes, I could take it away for $100. So, I sold the car itself to a friend of mine who has a couple of these Skylines, and took home a set of ultra rare SSR Bright Speed Racing 3pc wheels in a 14x6.5" size with a generous amount of dish on them for the size. Very very pleased with this acquisition, even if they do require a bit of refurbishment before they'll be fit to bolt on to the car: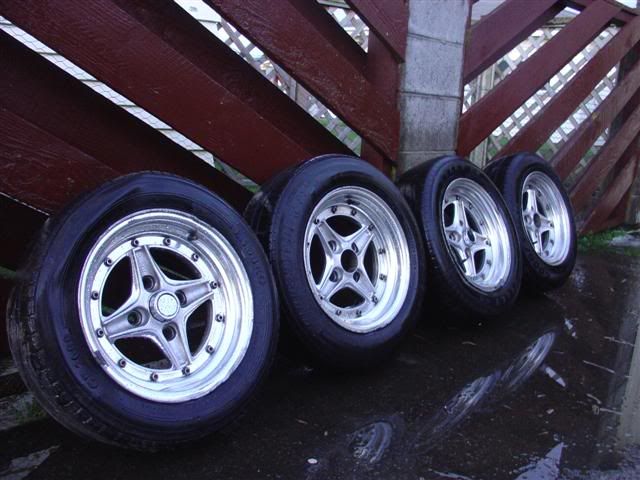 And then it was onto the big one - 18 months after purchasing the car, and driving it daily, I finally decided to splash out and get the bodywork seen to. After dismantling the car, it was found that structural rust was almost non-existent, there was a small amount of surface rust below the drivers side rear window seal, and a more major hole in the bulkhead above the brake booster, a typical spot where the KP6* Starlet's rust. I has previously source replacement doors, and a replacement tailgate (due to rust that was uneconomical to repair compared to the cost of replacement panels) so they were fitted prior to it's trip to the body shop: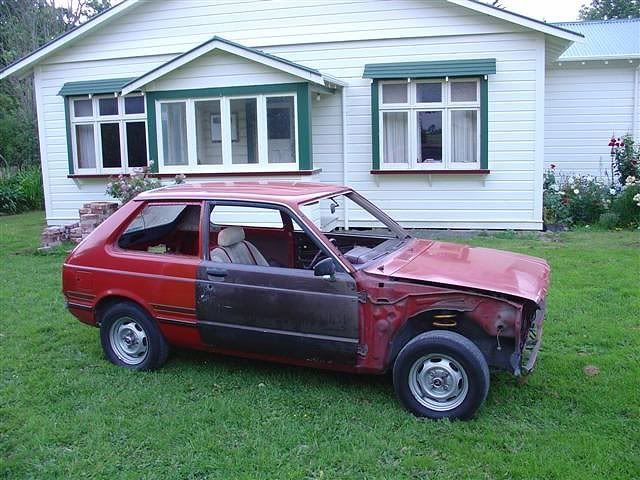 It came back looking like this, straight as an arrow, in the original Toyota red.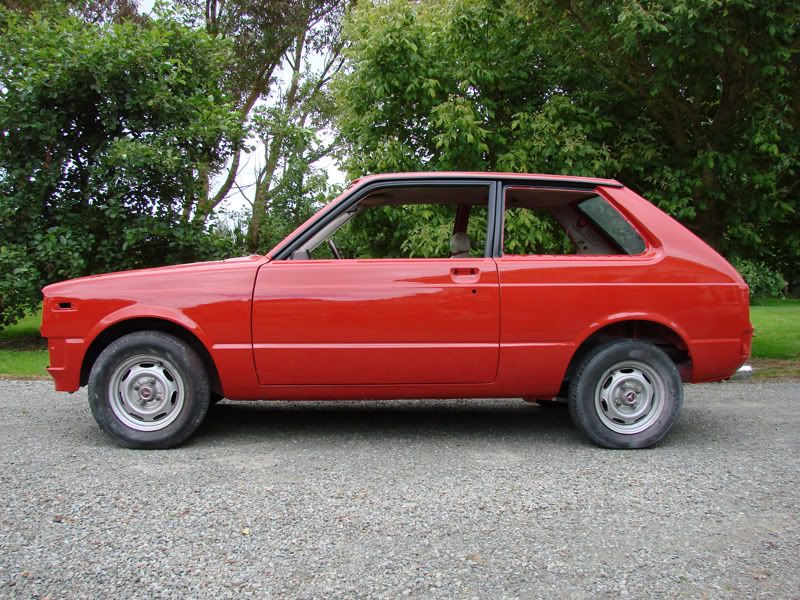 Fairly soon it was safe home in my garage and reassembly commenced, after a week of nights after work reassembling carefully, it emerged in one piece, it was returned to a legal condition (registered, and it passed it's Warrant of Fitness check) and is in the state seen in these photos: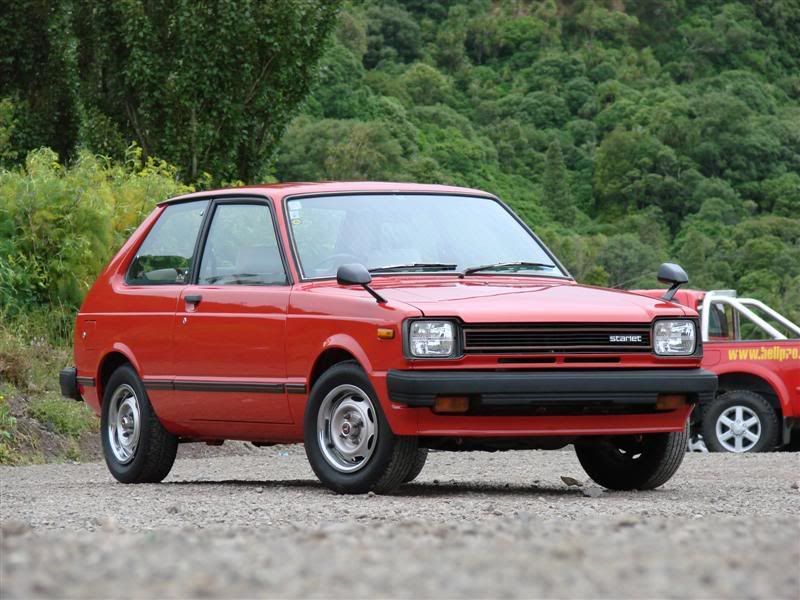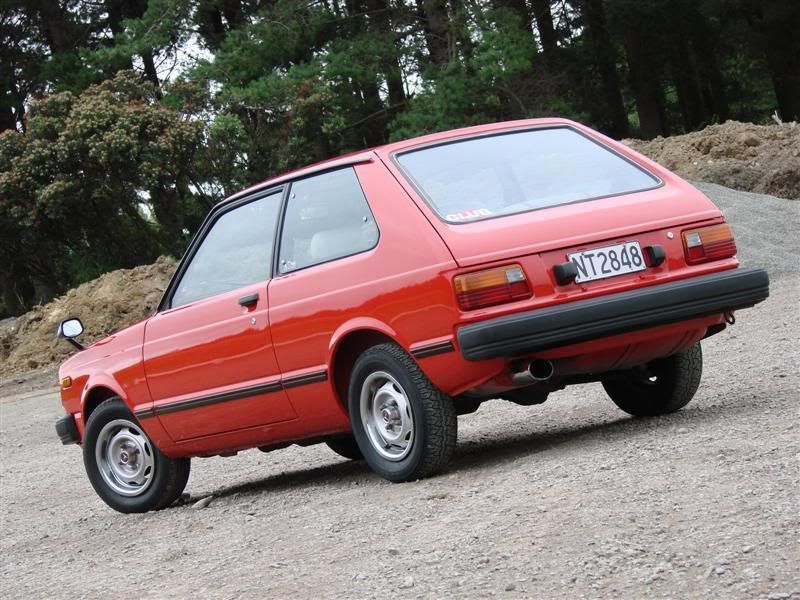 It now has the SSR Mark 1's back on it, I will endeavour to get hold of some photo's as it sits... but tonight I am embarking on a 2.5hr drive to pick up yet another set of wheels, this time a set of 14x6.5" Hayashi Street Fins, which as far as wheels on KP's go, are my ultimate set of rims.
Keep posted,
Cheers,
Richard.